---
Decorative Pace Clock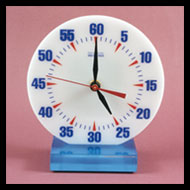 Decorative Pace Clock - $28.98
The unique design of this 5" diameter pace-clock replica appears to be floating on a pool of water. The quality quartz accurate movement indicates the actual time of day, while the red sweep second-hand reminds you of your best of times. It is perfect for home and office, makes a great gift, and an inscribed plate may be affixed for use as an award. AA battery included. Not intended for pool use.
For purchasing information, please CLICK HERE to proceed to our secure online shopping area.
Thanks for your patience!