---

I have created 5 proven products and programs which individually and collectively help alleviate back pain, increase your flexibility and range-of-motion, amplify your running and cycling and motivate you to accomplish all of the above, and more!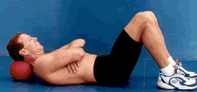 All of my products are so easy to use, so you start feeling results from day one.
In our fast-paced, hurry up world, we sometimes forget to take care of the most important person: YOU. That's why my products fit into a hectic lifestyle. They don't take long, they're easy, and they make you feel good right away.
By following the programs for all of my products, you can help roll away back pain, increase your flexibility and strength, become a stronger runner and cyclist, and be self-motivated to accomplish all of your goals. All of my programs are about individual health and wellness, and injury prevention. They are about what we can do to fix ourselves. I find people usually misspell the word health. They always leave out the "U" in it.
Tip of the Week: Hi FRAID NOTS fans, and welcome back. I have some exciting new developments coming your way, so check back often. I will be constantly updating my sight in the next few weeks, and offering specials on selected items. Stay tuned, and thanks for your loyalty. Have A Flexible Day! Tom Drum